SME Mobile Master - Assign User Names
From High5Wiki
Set Technicians in SME Users
Technicians are automatically added to the users list in SME Mobile when they are set as technicians in SME.

Assign user names and passwords
To get started using SME Mobile, the first thing you need to do is assign your users with a username and password.



Open a internet browser and go to http://m.high5software.com/ (Firefox or Chrome recommended)
Log in using the Admin credentials provided to you by High 5 Software.
Click the Home link in the upper right corner


Click Logged in as an Admin - click here to manage Users.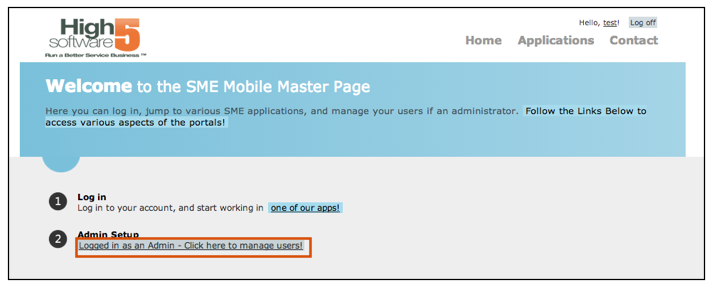 You will see a list of all your SME Users listed. It might take a minute for all the users to list. Notice to the right of the users they are Not Registered. Any tech that will need to log into SME Mobile Tech will need to be assigned a Username and they will be registered.



When a tech logs into SME Mobile, they will enter a username and password. Their username will be what you assign them PLUS the extension assigned by High 5 Software. For example Tony@AbcInc would be the username, but the part of the username you enter is only the part that comes before the @ sign. SME Mobile will automatically assign the @Companyname.

To register CindyM, enter a username and click Save.


Enable users for Apps and Charges from High5
Technicians are enabled and disabled in SME Mobile by the options outlined below. Technicians showing in SME mobile will NOT be billed if the options to access SME Mobile modules are not checked.

Note: Mobile billing is based on the following settings being checked. (If these options are checked at anytime in a month you will be billed for a full month).
Choose which mobile applications they will be using.
Tech - check if your users will log into SME Mobile Tech
BC- check if your user will log into barcode app for mobile warehouse management (receiving items on POs, transferring stock between warehouses)
Time - check if your user will be using Time Tracker for SME
Disp.- check if your user will be using SME Mobile Dispatch for a browser based dispatch board.
Note: Admin users can have ALL applications unchecked and still manage users and preferences. You will not be charged for any admin-only users. Charging is only for the users with the applications checked.

Set Admin Users

Choose if the user is an Admin or not. If Admin is set to + then the user will be able to log into SME Mobile Master and manage user and set preferences. If it is set to - then no ability to manage users or preferences.

The user is now registered with a username. The default password assigned to each new user is changeme. You can enter in a different username for your users



Or your user can change their own password when they log in.
- Go to www.m.high5software.com.
- Click your username in upper right corner (image below).



- On the Manage Account page, change your password.
User Group Preferences

To setup and change User Group Preferences, go to SME Mobile - Preference Groups