Receivables Module Overview
From High5Wiki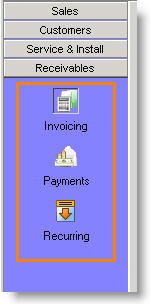 SME is not an accounting program since it does not handle accounts payable and general ledger, however it does handle Accounts Receivable functions such as invoicing, payments and recurring invoicing.

Invoicing – Orders should be invoiced as soon as possible. There are several types of invoices you can create in SME including partial invoicing and fixed invoices. If you are syncing SME with QuickBooks, invoices entered in SME will sync to QuickBooks.

Payments –Enter payments from an invoice or directly in Payments and apply payment to invoice. If you are syncing SME with QuickBooks, payments can be entered either in SME or QuickBooks.

Recurring - The Recurring section of the Receivables module allows you to setup rules for SME to generate an invoice on a regular basis. For example, use recurring invoices if you send out quarterly or monthly invoices to your customers.