Order Tabs
From High5Wiki
The tabs at the bottom of dipsatch show you open service orders, open install orders, open invoices, open proposals, as well as unscheduled orders (orders that don't have a tech scheduled yet). Drag orders from the tabs on to the dispatch calendar to schedule.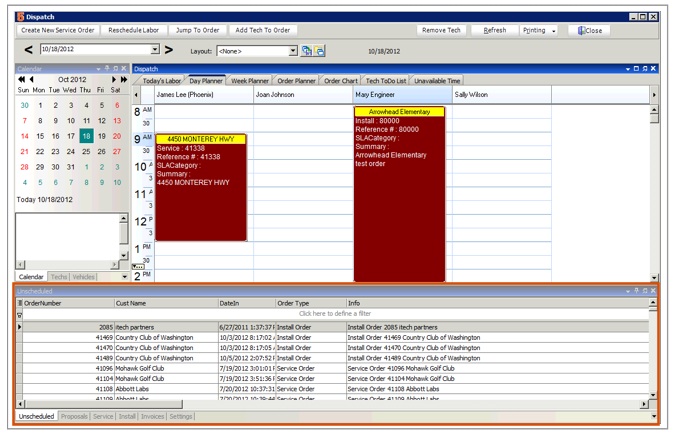 From these tabs, you can sort and filter your orders. Drag and drop the order onto the dispatch calendar to schedule your tech. On the Proposals, Service, Install and Invoices tab you can choose which columns you are viewing. For example, you may want to be able to sort your service orders by order status, due date, or order number.
Choose columns
The views that you create in the Service & Install module > Services can be applied to the service tab in dispatch.
1. Right click on the column header.
2. Select Apply View.
3. Select the search view. These search views listed are created in the Service Order Search window.


Rearrange the order of the columns
You can drag and drop columns in place:

You can also click

to rearrange columns and remove columns from the grid:
1. Click

in the upper left corner of the Service tab.


2. The columns will display in a list.
3. Click on a column and drag it to the position you want in the list. Green arrows will indicate where you are dropping the column.
4. Uncheck any column to remove it from the grid.

To learn more about setting up search views in SME, watch the searching tips video. Filtering orders on tabs
Similar to filtering your search views, click and type what you want to filter for below the column header as shown in the image below.


Entering % after the word (e.g. tire%) you type will find everything in the column that begins with the word you typed. Enter % before the word (e.g. %tire) you type will find the word anywhere in the field.