Order
From High5Wiki
The Order Defaults section in the Setup Module where you will set various defaults such as colors associated with orders, beginning order and invoice numbers, finance charge past due dates.
When getting started with SME, you may want to set the next order numbers, proposal number or next PO number. If you previously used a number system, you can set SME to pick up where you left off here.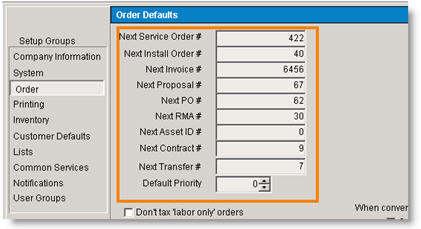 In SME, select the Setup module.
Click Order.
Click Edit on the left.
Fill out the next number in the section on the top left (circled in the image to the right)
Click Save on the left.
In the Order Dispatch window you can identify whether an order is open, closed, invoiced or past due by color. You can choose colors that make sense for your team.
Locate the Dispatch Colors for Orders section (image below)
Click Open Orders and select the color from the color picker. Follow the same for closed, invoiced and past due orders.
Uncheck White Font to change the font to black.
Click Save on the left.