Notifications Tab
From High5Wiki
Set email or pop-up notification for your customer in this tab. Your SME Administrator will create the types of notifications that you can set for your customers.
Your administrator can select which modules these notifications are available for and what type of action taken prompts the notification (e.g. Adding, Editing, Deleting, or Closing the record in the customer module.)

1. On the Notifications tab, click New.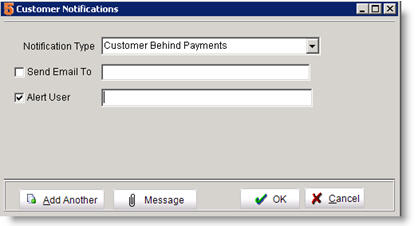 2. Select the Notification Type. If this drop down field is empty, your SME Administrator hasn't set up any notifications for this module yet.
3. Check Send Email To and type the email address for the person that wants to be notified with activity for this customer.
4. Check Alert User to set a pop-up window to open when user and click Message. In the window that opens type the message you want your user to see.
**NOTE** if you don't see the Notifications tab, then it was hidden from your view based on your user group permissions.