Navigate Button
From High5Wiki
Click Navigate in the different modules to quickly go to a record.


1 - GoTo - quickly go to a record by entering the order number, invoice number, customer name etc.
In Customers - by customer name
In Service Orders - by order number
In Invoices - by invoice number

2 - Recently visited records. In this section of the Navigate menu you will see the records you recently visited. Select to quickly jump to the record.
Apply View
If you created custom search views, you can apply the search views to the navigation. For example, if you have a search view that filters orders down to orders in a specific zone, then when you click through the orders using the Next and Prior button, it will only click through the orders in the zone.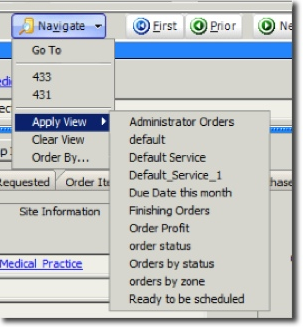 Order By
The field you choose to order your navigation by determines the order your records will display when you click the Next or Prior button.

For example, in Service, choose Order Number and as you click Next you will click through all orders by Order Number.