Item Status
From High5Wiki
When adding material to the order, there are three basic scenarios. 1. Stock is available in the default warehouse for that item 2. Stock is available, but not in the default warehouse for that item 3. Stock is not available and you need to place a purchase order for the item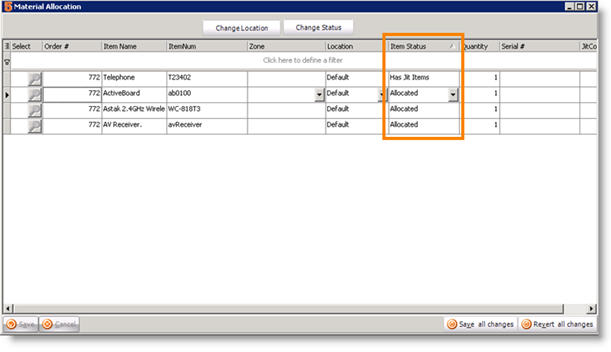 NOTE – Default warehouse is set for items in the inventory item > Details and Settings Tab > Default Location field.

Each material on an order has an Item Status. The Item Status will tell you if the stock is available and has been allocated to the order, if stock has been reserved for the order or if no stock is available for the order.

To see the Item Status on an order:
Go to the Service or Install Order.
Click Actions > Inventory Allocation.
In the Material Allocation window, locate the Item Status column.

Below are the Item Status values you will find for the three basic scenarios for serialized and non-serialized items.
Before closing an order, you need to make sure the item status is Reserved. **
Stock Available in the default warehouse

Stock Available, but not in the default warehouse

No stock available

Serialized Item

Link Status = Allocated

In Material Allocation window, click

to select specific serial number.

Once serial number selected, Link Status = Reserved

Link Status = Has JIT Items

In Material Allocation window, click

to select specific serial number in the warehouse you want to use.

Once serial number selected, Link Status = Reserved

Link Status = Has JIT Items

Must click Actions > Create PO for JIT-Only Items

Once PO items received, Link Status = Reserved

Non Serialized Item

Link Status = Allocated

In Material Allocation window, click

to select the stock you want to use.

Link Status = Reserved

Link Status = Has JIT Items

In Material Allocation window, click

to select stock in the warehouse you want to use.

Link Status = Reserved

Link Status = Has JIT Items

Must click Actions > Create PO for JIT-Only Items

Once PO items received, Link Status = Reserved