Importing contacts into Constant Contact
From High5Wiki
These instructions will guide you on exporting your contacts out of SME and importing them into Constant Contact
Prepare your import file

In SME, go to customer module
click Search > Search Active Customers
Make sure you have a column for Name, Email and Contact in your search window (Views > Add Remove Fields)
Click Export > Export to Excel. Click OK to the path message.
The contents of your search window will open in Excel.
Filter your excel file as needed to get to your target list

You will need to split the contact column into a first name and last name columns.

Copy the contact column and paste it on the right, so it is the column furthest on the right
click the column header for contacts to highlight the column
Click Data > Text to Columns (image below)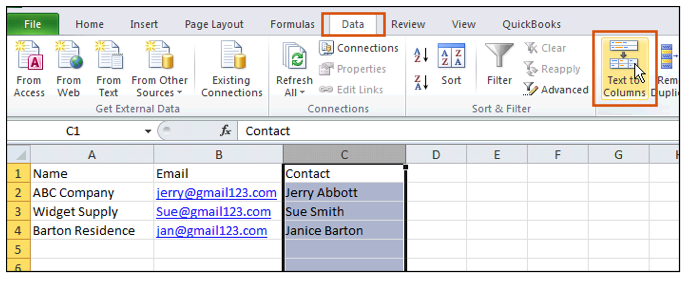 In the convert Text to Columns Wizard - Step 1 of 3 window, make sure Delimited is selected ad click Next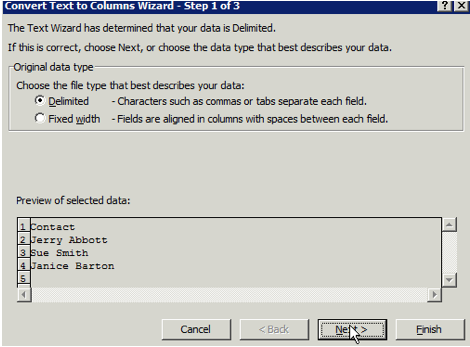 In the Step 2 of 3 window, uncheck Tab and check Space, so Space is the only one checked and click Next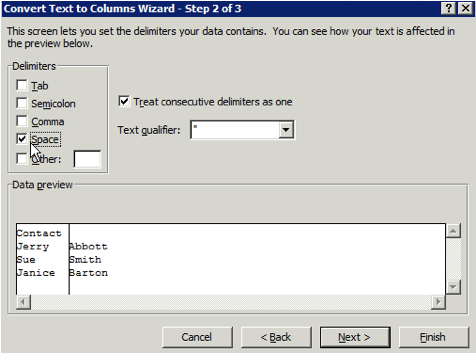 Click Finish in the Step 3 of 3 window.
You will see your contact separated into two column like this:


Rename the column headers "First Name" and "Last Name"



Review the name columns to make sure everything is lined up correctly. Make corrections as necessary.

Save the excel file
Import into Constant Contact
Constant Contact changes the interface so these images might not reflect what is currently on their site, but you can navigate through their wizard like this:

Log into Constant Contact
Click Contacts



Click Add Contacts > Add from file
Click Choose File and browse for your Excel file.



Click Continue

In the next window, you will see a preview of your excel file and the column names. Use the "Fields in Contact Contact" column to map the excel columns to the correct field.

For example, make sure "Name" is mapped to Company, Email is mapped to the correct constant contact email field, and the names are mapped to First name and Last name



Once you've mapped your excel columns to the Constant Contact fields, click Continue

In the next window, click the plus sign next to Add to Email List and choose which email list you want the contacts to import into, or click Create New List.



Click Apply
Click Import