Help Desk
From High5Wiki
In Help Desk, you can enter articles about common problems and solutions to build up your knowledge base. You can then search this knowledge base to quickly reference the problem and solution.

Create a new article in Help Desk

1. Go to Help Desk > Help Desk.
2. Click New.
3. Details and Settings tab

a. Title – The title should identify the problem in the article.
b. Product – Type the product with the issue. If you click Search in Help Desk, you can sort and filter by this field. Make sure Product is a column in your search window.
c. Version – If applicable, enter the version this article addresses.
d. Article # - When you save the article, this number is assigned by SME.
e. Date – The date you created the article will be populated here.
4. Problem tab – enter a description of the problem.
5. Solution tab – enter the solution to the problem.
6. Stored Documents tab – Click New to browse for a file you want to link to the article.
Find articles in Help Desk module
Use the Search button in Help Desk to see a list of all articles. You can sort and filter the articles on the columns in the search window.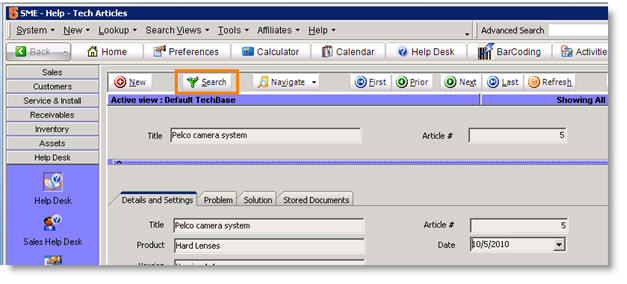 You can also search the contents of the knowledge base by clicking Help Desk at the top of SME (circled below).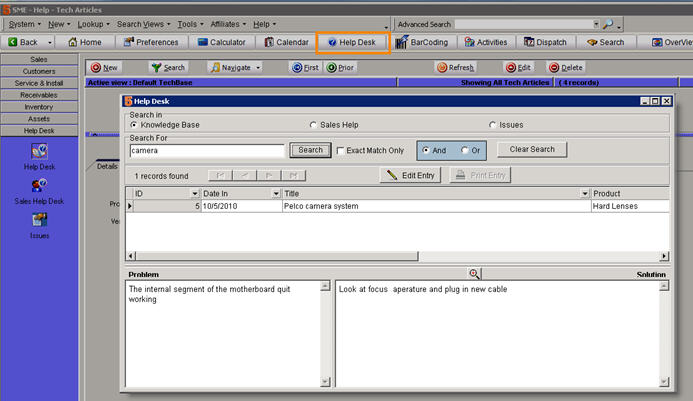 1. In the Help Desk window (shown above) you can search in Knowledge Base, Sales Help or Issues.
2. Enter the words you want to search for in the Search For field.
3. Click Search.
4. Results will be listed in the grid below.
5. Click on one of the articles and the Problem and Solution from the article will display in the boxes at the bottom.