Customer Equipment- Customers
From High5Wiki
SME has excellent ability to track and manage your customer's equipment. Customer Equipment is integrated throughout SME to improve tracking of the equipment and provide your customers excellent support.
Click Customer/Site to select a customer and the customer's Customer Equipment tree will display (image below)


Adding Items to Customer Equipment
When setting up your inventory items in SME, you can check Add to Cust EQ (circled in image below). Add this inventory item to an order for a customer and once the order is closed, the equipment will automatically be listed in their Customer Equipment.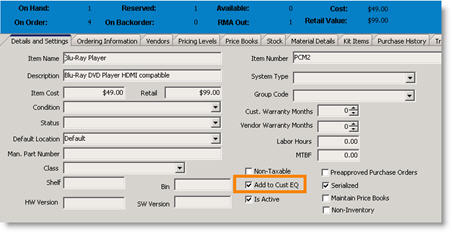 Equipment can also be added manually through the Customer Equipment.
Select Customer Equipment.
Click Customer/Site and select the customer you need to add equipment to.
Right click and select Add New Item.
In the Customer Equipment window, click next to the Item Name field and select the equipment from the inventory list.