Creating Order Templates
From High5Wiki
If you find that you are creating the same service or install order frequently, you may want to create a template for the order to save time.
Create the template:
Open an existing order or create and save a new order you want to use as a template.
Click Actions > Save as Template.
Type the template name in the Save As Template window. Click OK.
The template is created. Now to generate another order with this template:
Go to Service or Install.
Click Actions > Create From Template. (image below)
Select the template in the Select template to apply to order window. Click OK.
The Search window will open. Double click on the company you want to create the order for.
The order is created based on the template selected.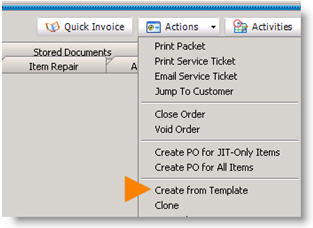 To edit the template, you must edit the original order you created the template from.