Create a New Service or Install Order
From High5Wiki
You can create a new order from a customer record or directly in the Service or Install module. If you need to create an order for a new customer, first create the customer record, then create the order.
From a customer record:

1. Open customer record.

2. Click Actions, New Service Order or New Install Order.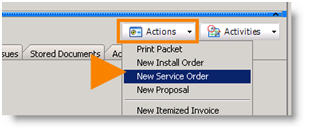 From the Service or Install module:

1. Click New.

2. The Search window will open. Double click on the customer you want to create the order for.

3. A new order is created. The customer information will populate the order such as site, billing and mailing information, the invoice type, the customer price book, and the customer's tax group.

From anywhere in SME:
Click New in the menu at the top of SME.
Select Service Order or Install Order.
You can type Ctrl+Alt+S to create a new service order, or Ctrl+Alt+I to create a new install order.