Administrative Clearances
From High5Wiki
On the Administrative Clearances tab you will assign various administrative permissions to a user group such as the ability to delete order, edit order, view costs and totals etc.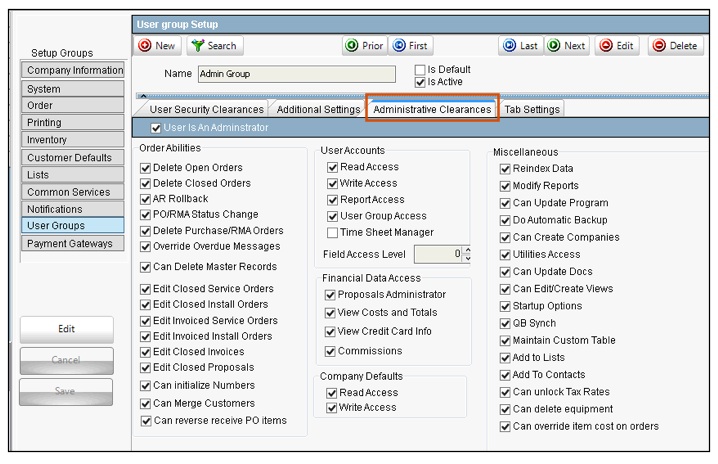 The Order Abilities section is where you can choose permissions related to adding and deleting information.

The User Accounts section provides access to the user accounts in SME.
Field Access Level is related to custom fields. You can assign an access level to each custom field and this is where you assign what level of access the user group has to the custom fields.

The Financial Data Access section provides users access to financial information such as commissions, costs and prices, and credit card info.
Proposal Administrator - If checked user can see the Sales Commission field on a proposal.
View Costs and Totals - If checked then the user can see the cost and price field on material, labor and services they add to orders.
View Credit Card Info - If checked allows users access to credit card information.
Commissions - If checked then user has access to commission summary on the totals tab on an order. They also see the commissions tab on the material, labor, and services added to an order.
The Company Defaults section provides users access to the Setup module > Company > Setup Groups. This applies to all groups except user groups. Access to the User Group section of Setup module is determined under the User Accounts section.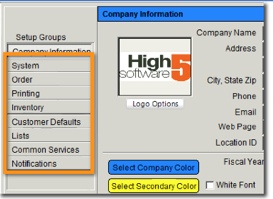 The Miscellaneous section provides other permissions. A couple that are used frequently:
Can Edit/Create View - this allows user to create new search views in the search windows throughout SME.
Add to Lists - allows users to add values to drop down fields directly in the field rather than going to the setup module.