Services
From High5Wiki
Service items can be used for a variety of purposes such as fixed rate type services, services to be performed by subcontractors, or other service type items such as freight & shipping.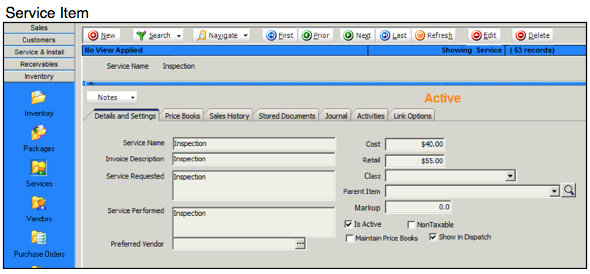 Some companies using SME use service items for all charges to customers and only use labor items for scheduling purposes. Other companies use service items for subcontractors with the cost being the amount they pay the subcontractor and the price the amount they charge to the customer.
Notice that service items include multiple descriptions; these can be used for different purposes. For example, the Service Description can be used for the technician or subcontractor while the Invoice description is used for the customer invoice.
Show in dispatch - If flag is not set, will not show labor records with the service item in dispatch. When creating new service items, flag set by default.

Sales History tab
Select this tab to see all service or install orders the service item was added to.
Add Service Item to an Order
In an open service or install order, select the Order Items tab.
Click New Service.
Select the service in the Select Item window. The Service Item Editor will open.
Update the Charge Quantity field and edit the price field if necessary.
Click OK and the service is added to an order.