Place PO for parts below minimum level
From High5Wiki
On each inventory item, you can set a minimum on hand amount. You can then search your inventory items and compare available and minimum on hand amounts or you can create a PO for your vendor and let SME find items below minimum levels.
Go to Purchase Orders in Inventory Module.
Click New and select the vendor. The vendor information will populate the Vendor tab on Details and Settings. Fill out the rest of the fields on Details and Settings tab as needed.
Click Actions > Add from Minimum Level Inventory.
The inventory items below minimum levels will display. Double click on the items to add them to the PO.
Click Shipping Notes to add shipping notes to the PO.
Click Save.
You can also automatically create all PO's requiring min levels. Note that this method creates all PO for parts below minimum level inventory. It will make the order based on the default vendors for the inventory. Note also, that if you have other un-received PO's it will create a new PO since the parts are still below the min until open POs are received and go into stock.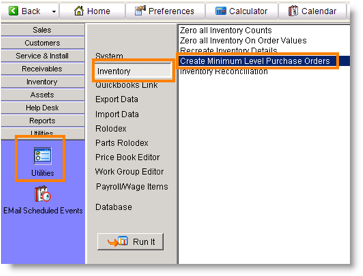 Go to Utilities module and click Utilities.
Click Inventory.
Click Create Minimum Level Purchase Orders.
Click Run It.
The PO's will be generated for you.
To print or email the PO:
Click Print/ Email.
To print, select Standard Purchase Order.
To email, select Email Standard Purchase Order.