CustomerPortal and TechPortal Install Guide
From High5Wiki
Customer side of the High5 Software Customer,Tech Portal and Email side install instructions.
For Windows 2003, 2008, Vista and Windows 7 only.

The portal software has the following major pieces that will need to be installed:

SME Version 7.1
Web services only for SME version 7.1 or later.

Install of .net framework 4
This should be installed first as it will require a report for system Operating systems. http://www.microsoft.com/download/en/details.aspx?id=17851
Install of Internet Information Services (IIS)
IIS should be installed by using the Add/Remove Windows features, in all versions except Windows Server 2008. For windows Server 2008 you will need to use the Add Roles. It is very important to have the IIS 6 Management Compatibility checked including all its children objects when dealing with Vista/2k8 or later of IIS.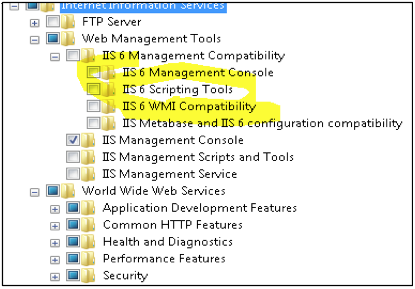 Install of Web Service Software to support Portals
Install guide: http://high5software.com/mediawiki/index.php?title=SME_Web_Services_Installation_Guide
The install files can be fetched from the following addresses

32bit www.high5software.com/downloads/webservices/SMEWebServices_x86.msi
64bit www.high5software.com/downloads/webservices/SMEWebServices_x64.msi

When you run these files you must be logged into the machine local administrator. If you are told you do not have permission contact support.
During the process you will be prompted to enter the pathway to alias62.ini file. The file itself is located in the same directory as SME5.exe. All slashes should be forward slashes instead of backwards. If you are unsure if configuration file is accessible please contact support.
Once installed you should be able to open your web browser on the server and type in the following: http://localhost/SMEWebServices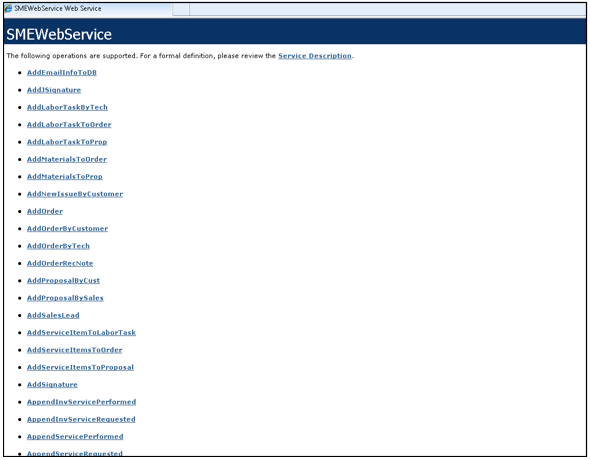 Towards the bottom of the list is a function called GetOrderStatusList. Click on this link to, then click on the invoke button to run the command. You should see data (if you have open tickets). Else you may want to contact support to verify that it is open.
Configure Router to allow inbound communication from internet to machine running IIS.
Finally the router needs to be setup to pass inbound communications from the internet to the machine running IIS. You will need to either consult your IT personal or manual for your router to configure this.
Contact High5
Once you have above setup you should contact high5 with the following information:

IP address

Port Number

Options you want setup from the list below

At this point high5 will set up the public end will provide you will info you need to access the public side of the Customer/Tech Portal.
Customer Portal Options
Customer Portal has various options, contact High 5 Software support on how you want your options configured:
Show or hide Service Orders
Show or Hide Issues (from SME Help Desk Area)
Show or Hide Equipment
Show or Hide HelpDesk
Show or Hide Install Orders
Show or Hide Customer Documents
Show or Hide Invoices
Show or Hide Info which gives an overview of the invoice aging.
Allow adding a New Service order
Allow closing a Service or Install order